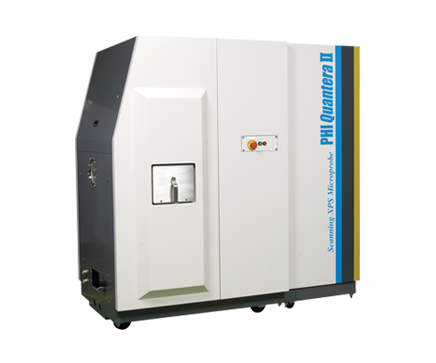 PHI 

Quantera

 II
Scanning XPS Microprobe
The core technology of the Quantera II is PHI's patented, monochromatic, micro-focused, scanning x-ray source which provides excellent large area and superior micro-area spectroscopy performance. Spectroscopy, depth profiling, and imaging can all be performed over the full range of x-ray beam sizes including the minimum x-ray beam size of less than 7.5 µm. In addition to superior XPS performance characteristics the Quantera II provides two in situ sample parking stations which enables the automated analysis of all three sample platens in a single user defined analysis queue.
Micro-Focused Scanning X-ray Source
Micro Area Spectroscopy
Thin Film Analysis
Automated Analysis
SmartSoft-XPS
MultiPak Data Reduction Software
Features & Accessories
SXI Demo Video
Micro-Focused Scanning X-ray Source
Micro Area Spectroscopy
Superior Micro Area Performance
Micro-focused raster scanned x-ray beam
Minimum beam size < 7.5 µm in diameter
Confidently locate small features for analysis using x-ray beam induced secondary electron images
Highest small area XPS sensitivity
Thin Film Analysis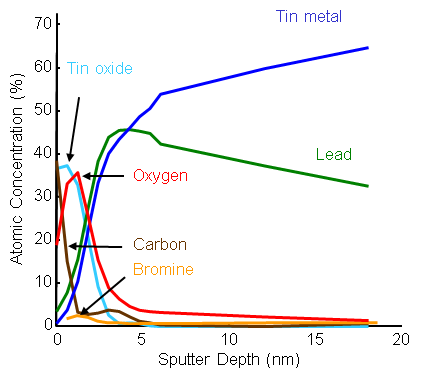 Inorganic Thin Film Analysis
0-5 kV floating column ion gun
Low voltage depth profiling for ultra-thin films
Compucentric Zalar rotation
Effective dual beam charge neutralization Bend in column to stop neutrals
Micro-area depth profiling
Multi-point depth profiling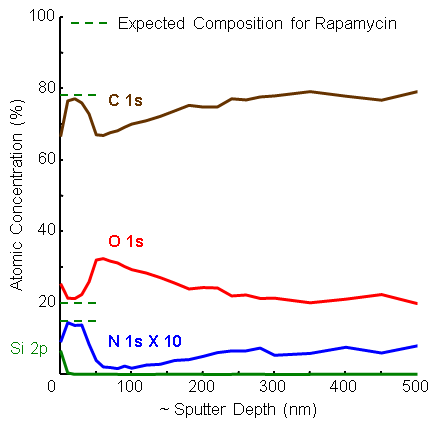 Organic Thin Film Analysis
Optional Ar2500+ and C60 cluster source ion guns
Mass filtered mass ion beam
Sputters many polymer and organic materials without damaging their chemistry
Automated Analysis
High Throughput Automated Analysis
Robust Auto-Z sample alignment
Turnkey dual beam charge neutralization
Move without concern from insulator to conductor in auto analysis sequences
No special sample mounting or masking
Fully Automated Unattended Analysis
SmartSoft-XPS
Whether you are a casual user or an expert, the work flow driven UI and enhanced feature set will increase your productivity.
Intuitive single window user interface
Session tabs guide you through the analysis process
Integrated sample platen management
Point and click analysis area definition on saved images
User friendly queuing of multiple analysis tasks
Multi-point analysis and sputter depth profiling within an imaged area
Fully integrated control of optional accessories
MultiPak Data Reduction Software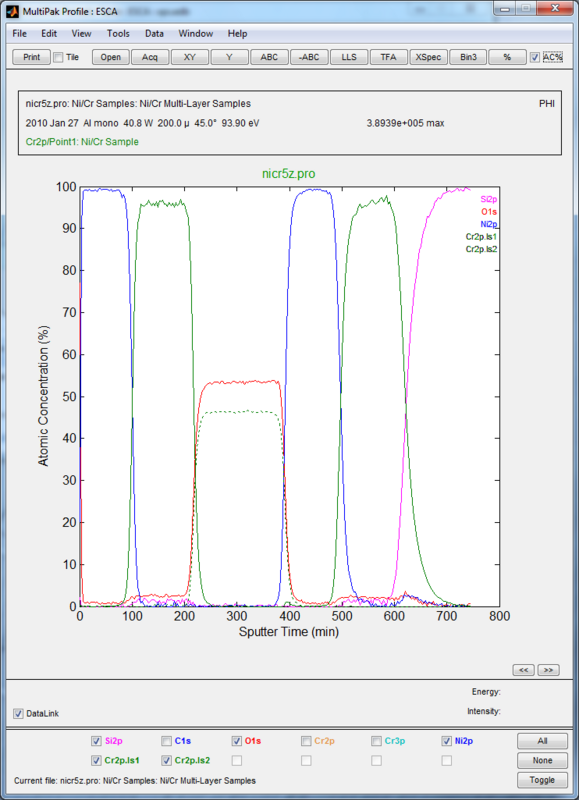 Data Reduction for XPS and AES
PHI MultiPak is the most comprehensive data reduction and interpretation software package available for electron spectroscopy. The tasks of spectral peak identification, extracting chemical state information, quantification, and detection limit enhancement are addressed with an array of powerful and easy-to-use software tools for spectra, line scans, images and depth profiles. Microsoft Windows XP and Windows 7 compatible, MultiPak can be used on the instrument PC to process data in real time or on an off line PC for report generation.
Advanced Data Reduction Tools
Auto peak identification
XPS chemical state database
XPS spectral deconvolution
Quantitative analysis
Non-linear least squares fitting
Linear least squares fitting
Target factor analysis
Retrospective chemical imaging
Batch mode data processing
Features & Accessories
Standard Features
Scanned, micro-focused, monochromatic x-ray beam
X-ray beam induced secondary electron imaging
Dual beam charge neutralization
128 channel mode detection
Large area XPS
Micro-area XPS
Chemical state imaging
Thin film analysis
Floating column argon ion gun
Compucentric Zalar rotation
Angle dependent XPS
Five axis automated sample manipulator
75 X 75 mm sample holders
Two in-situ sample parking stations
Robotic sample handling