El espectrómetro de masas TRIFT patentado de PHI con Parallel Imaging MS / MS proporciona una sensibilidad superior, un fondo espectral bajo, una capacidad única para obtener imágenes de superficies altamente topográficas, alta precisión de masa y resolución de masa, e identificación inequívoca de picos de alta masa con capacidad de imagen de MS en tándem paralelo. El nanoTOF II se puede configurar con una amplia variedad de opciones para optimizar el rendimiento de materiales orgánicos, materiales inorgánicos o ambos, según los requisitos del cliente.
Superior TRIFT Parallel Imaging MS/MS Analyzer Performance
Parallel Imaging MS / MS integrado para fragmentación y análisis en un analizador TOF separado que proporciona una identificación de picos inequívoca y capacidad de imágenes de MS en tándem paralelo.
Sensibilidad de imagen uniforme en superficies curvas o rugosas debido al gran ángulo sólido de recolección
Profundidad de campo superior para imágenes de alta resolución de masa debido a la gran ventana de aceptación de energía
Fondo espectral bajo y sensibilidad de abundancia más alta debido a la capacidad de rechazar iones metaestables
Alta sensibilidad de masa para aplicaciones orgánicas y médicas.
Análisis de aislador llave en mano habilitado por la tecnología patentada de compensación de carga de doble haz
Espectrómetro MS / MS listo para identificación de picos inequívoca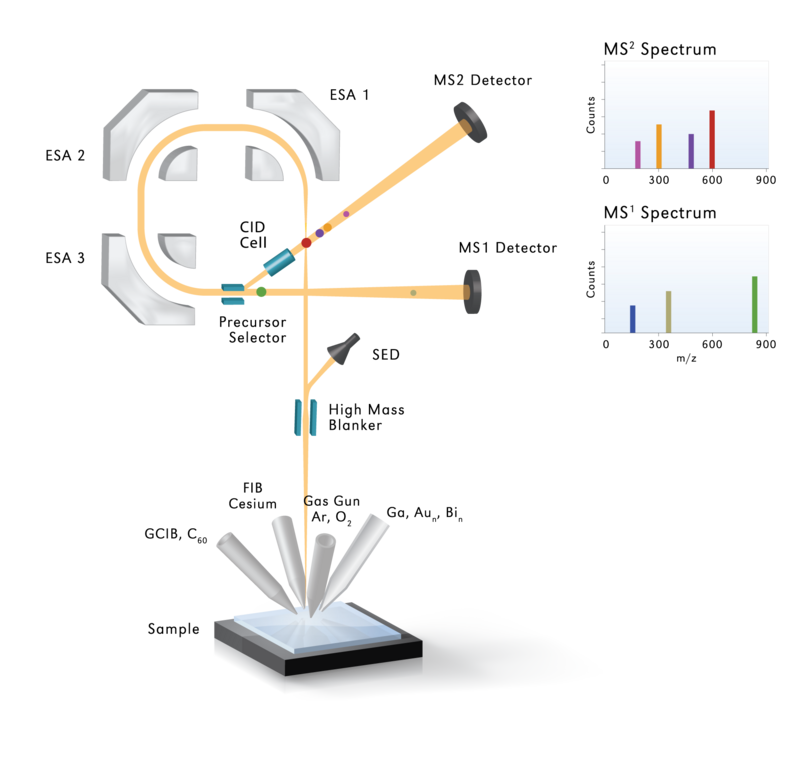 Parallel Imaging MS/MS
Debido a las limitaciones de TOF-SIMS en cuanto a precisión y resolución de masa, los picos de alta masa a menudo no se identifican en los experimentos tradicionales de TOF-SIMS. El revolucionario MS / MS de imágenes paralelas de PHI elimina esta limitación. En el modo MS / MS, se selecciona un ion precursor de elección (ventana de aceptación nanoisotópica de 1 Dalton de ancho) de la corriente de iones secundarios y se desvía hacia una célula de disociación inducida por colisión (CID) de alta energía, mientras que el resto de los iones secundarios se recogen como usual (datos MS1). En la celda CID, los iones precursores chocan con el gas argón causando fragmentación. Los iones de fragmentos resultantes se separan en masa en un TOF lineal y se cuentan en un segundo detector de conteo de pulsos, produciendo un espectro MS / MS (MS2). Similar a los datos de MS1, se recopila un espectro completo para cada píxel de imagen en el experimento MS / MS. Por lo tanto, los datos de MS / MS y TOF-SIMS tradicionales se recopilan simultáneamente de la misma área analítica en un solo experimento. La velocidad de imagen de los datos MS1 y MS2 se basa en un haz de iones pulsados ​​que funciona a> 8 kHz.
El espectro de fragmentación MS / MS resultante se usa para identificar positivamente la composición del ion precursor mediante la identificación de los iones fragmentados y / o la comparación con bases de datos espectrales de masas. El funcionamiento de TOF-SIMS en el modo MS / MS también puede mejorar la sensibilidad para especies en las que el pico de interés tiene interferencias masivas con otros compuestos. Mediante la detección de un fragmento único de iones que se origina en la especie de interés, el límite de detección se puede mejorar considerablemente.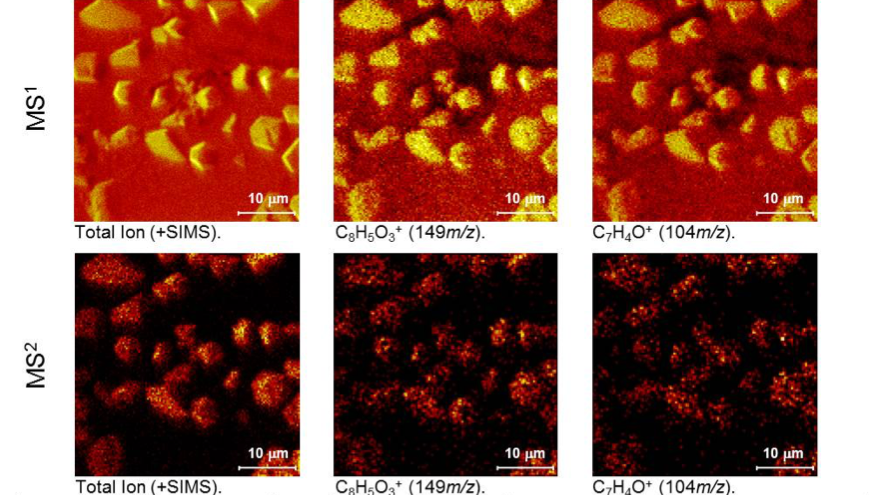 Parallel imaging of MS1 and MS2 peaks from a sample of heat treated PET, showing that identical areas are analyzed at the two detectors and that the precursor molecule at +m/z 577 (ethylene terephthalate trimer) is localized to the crystals.   Line scans show <200 nm spatial resolution for both modes of imaging.  MS1 and MS2 data are collected in parallel at 8 kHz in less than 15 minutes.

Heat treated PET sample.  Composition assignments for the MS2 spec.  trum obtained from CID fragmentation of the +mass 577 precursor ion confirm that the observed crystals are composed of ethylene terephthalate trimer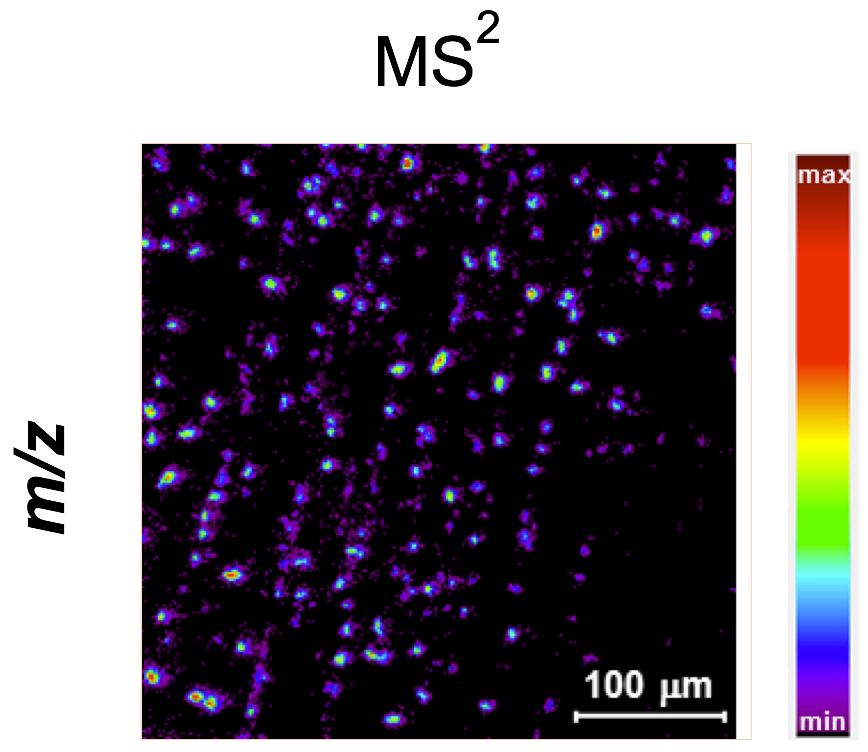 Automotive polymer sample.   MS/MS image (MS2) of the +m/z 481 precursor ion showing a non-uniform distribution of the species on the sample surface.

MS/MS spectrum (MS2) obtained from CID fragmentation of the +m/z 481 precursor ion.  Identification of the fragment ions indicates that the precursor ion [M+H]+ is Tinuvin 770, a polymer additive.

Further confirmation of the identity of the precursor ion is made with a positive match to Tinuvin 770 in a commercially available MS/MS database which is included with tandem MS/MS.  The spectrum in red is the MS2 spectrum and the blue spectrum is the acquired reference database spectrum of Tinuvin.
HR²
High spatial resolution with high mass resolution
HR² imaging is demonstrated below in the images of micro-organic droplets. In a single analysis, peaks for multiple molecular fragments were observed in the spectrum at m/z 57 with high mass resolution and identified by measurement of their exact mass. The distribution of each species was visualized with a spatial resolution of less than 400 nm. The single measurement that contains all this information was acquired in only six minutes due to the high ion beam current available in the nanoTOF's HR² imaging mode.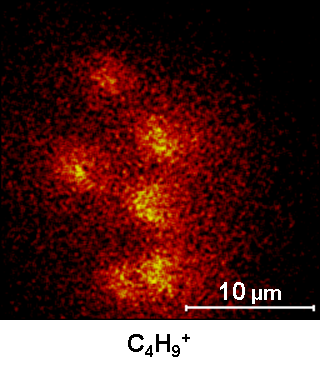 Cluster Source Ion Guns
Multiple cluster source ion gun options
20 kV Ar2500+ gas cluster ion beam for molecular depth profiling organic films. Shown in Fig. A is a depth profile of a multi-layer polystyrene and poly (2-vinylpyridine) block copolymer film obtained by sputtering with a 5 kV Ar2500+ gas cluster ion beam.
FIB-TOF 3D Chemical Imaging
3D FIB-TOF images of a solid oxide fuel cell with a 50 x 50 x 10 µm analysis volume show the ability to observe compositional information and physical structures such as voids.
TOF-SIMS imaging of FIB sectioned specimens
High mass resolution spectra at every pixel
3D imaging software with multi-element overlay capability
Features & Accessories
Standard Features
TRIFT mass analyzer
Parallel Imaging MS/MS
30 kV LMIG with Bi, Au, or Ga emitter
Dual beam charge neutralization
5 axis sample stage
In-situ optical viewing
Secondary electron detector
SmartSoft instrument control software
TOF-DR data reduction software
Analysis chamber with four primary ion gun ports
350 l/s turbo molecular pump
Integrated bakeout facilities
Optional Accessories
20 kV C60 pulsed ion gun
20 kV Ar2500+ gas cluster ion gun
2 kV Cs ion gun
5 kV gas gun (Ar/O2)
Oxygen flood module
30 kV Ga FIB gun
Hot/Cold sample stage module
Flash cooling for sample intro chamber
High temperature sample stage module
Sample transfer vessel
Intro chamber glove box
Voltage cycling sample stage module
Sample preparation chamber